KC-135 Application Guide: GORE® SKYFLEX® Aerospace Materials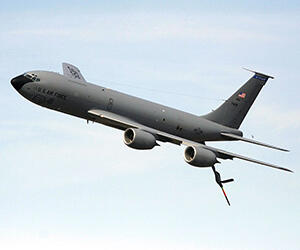 Installation Guides, 英语
Backed by a long history of proven success, W. L. Gore & Associates' GORE SKYFLEX Aerospace Materials are trusted by countless civil, defense, and space applications. These durable, lightweight materials provide a no-cure seal for panels, fairings and floorboards, as well as protect against vibration damage and harsh environments. Specifically, GORE® SKYFLEX® Aerospace Tapes, 110, 720 and 730 Series, include Gore's proprietary expanded polytetrafluoroethylene (ePTFE) in their construction, which is specifically designed for use in a hydrocarbon-rich environment.
---
GORE SKYFLEX Aerospace Materials are approved for use in several technical orders (TOs) for the Boeing KC-135 Stratotanker. The information presented here is based on Gore's best practices and intended to be used as a guide only, and procedures in the current version of the TOs supersede any examples Gore provides. For more information, view the instructional videos at www.gore.com/skyflex.
Approved Technical Orders
GORE SKYFLEX Aerospace Materials are approved for use in the following TOs for the Boeing KC-135 Stratotanker:
TO 1-1-691 Aircraft Weapons System Cleaning and Corrosion Control
1C-135-3-1
1C-135-4 
Inspection of Previously Installed Sealant
Whenever the access panel is removed, the sealant must be inspected, as its sealing ability may be degraded if there is damage. This can be prevented by inspecting GORE SKYFLEX Aerospace Tapes for the following:
Large nicks
Cuts
Gouges
Corrosion
Delamination/separation from the sealing surface
If problems or irregularities are detected, refer to the appropriate application-specific instructions provided by Gore. Otherwise, wipe the surface of GORE SKYFLEX Aerospace Tapes with a clean cloth or rag to remove dust, dirt and other foreign matter before reusing.
Learn More About GORE SKYFLEX Aerospace Materials for Boeing KC-135 Stratotanker
There are countless reasons why aircraft designers and operators trust Gore's aerospace materials for their specific applications. For one, these single-component materials reduce aircraft downtime because they don't require curing upon installation, and they also reduce maintenance time by remaining intact over multiple open/close cycles during production and maintenance. Over these cycles, they also remain flexible, complaint and resistant to corrosion, UV radiation and the ingress of water, fuels, oils and hydraulic fluid.
GORE SKYFLEX Aerospace Materials are available in form-in-place tapes or die-cut gaskets. To discuss the sealant needs for your specific Boeing KC-135 Stratotanker application, contact a Gore representative today.