Application Guide for Helicopters - GORE® SKYFLEX® Aerospace Materials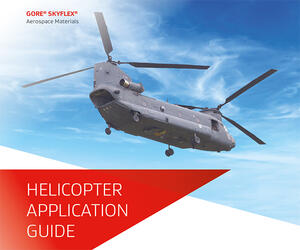 ---
Proven by more than 20 years of successful applications, GORE SKYFLEX Aerospace Materials are lightweight materials that provide a no-cure seal for panels, fairings, and floorboards while protecting surfaces against vibration damage. They remain flexible and compliant over multiple open/close cycles, providing durable protection against corrosion and the ingress of water, fuels, and oils.
GORE SKYFLEX Aerospace Materials are engineered from expanded Polytetrafluoroethylene (ePTFE). These products are available in a form-in-place tape or die-cut gasket and with options for materials resistant to fuels, oils, and hydraulic fluids.
To prevent chafing damage caused by the abrasion of the aircraft's panels against airframe structure, GORE SKYFLEX Aerospace Materials expanded PTFE tape installed between panel and structure provides a durable, low-friction barrier to absorb effects of airframe vibration.
Benefits
Easy installation from single-component material
No curing reduces manufacturing cycles and maintenance downtime
Less replacement and re-work of seals by maintaining performance over multiple open/close cycles
Improved sealing of irregular surfaces with highly conformable materials
Durable protection against mechanical forces, extreme temperatures, fluids, and other environmental hazards
Low environmental impact from non-hazardous waste
Suggested areas for applications are presented in Table 1. For more information or assistance in selecting the right materials for your application, contact your Gore representative.
Applications
Access, fuel & dry-bay panels
Floorboards/cargo & passenger
Structure/cargo & passenger
Engine cowlings
External fuel tanks
Fairings
Fuel bladder cavities
Helicopter tail booms
Wing D-Nose
Lighting assemblies
GORE SKYFLEX Aerospace Materials
720 and 730 Series Tapes are effective at sealing access panels and protecting against abrasion and aviation fluids.
Die cut gaskets provide precision sealing for fuel and environmental sealing applications.
110 Series tape seals windshields and panels with no cure time, enabling quick installation and replacement.
The examples presented in this document were applied using Gore's best practices for installing GORE SKYFLEX Aerospace Materials. In addition, instructional videos are available.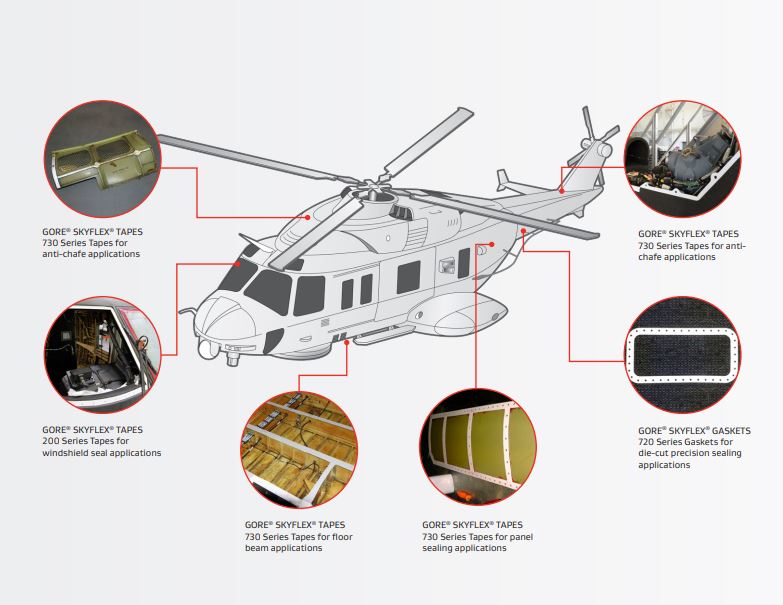 GORE SKYFLEX Aerospace Tapes and Gaskets are significantly easier to install than polysulfide FIP seals. They eliminate cure time for sealing and protective materials, significantly reducing manufacturing cycles and direct maintenance time. These materials do not require special equipment or training to install. In addition, their unique construction enables them to maintain their protective performance over multiple open/close cycles, which
translates to fewer replacements and re-work of seals and significant savings in personnel time during production and maintenance.
Unlike traditional two-component materials, Gore's materials require no mixing, masking or clean-up after installation. In addition, the non-hazardous material reduces environmental impact, disposal costs, and improves safety for installation personnel.
Note: This document is only a guide, and procedures in the current version of the technical orders supersede examples presented in this document.
NOTICE — USE RESTRICTIONS APPLY
Not for use in food, drug, cosmetic or medical device manufacturing, processing, or packaging operations.
GORE, SKYFLEX and designs are trademarks of W. L. Gore & Associates. © 2017 W. L. Gore & Associates, Inc.
SKYDROL is a registered trademark of Eastman Chemical Company.

SKY-0309-REF-US-APR17