Overview
The defense sector's need for fast data/video transfer is driving the demand to update aircraft with higher data rate cables to ensure mission success. Cables also need to be much stronger to tolerate difficult aircraft environments without breaking or failing.
We offer specialty versions of GORE Quad Cables with tighter skew requirements that are perfectly aligned with today's high-speed serial data and video protocols. Our dual differential pairs routinely transfer bi-directional signals while maintaining data and video speeds up to 1 GHz at lengths up to 30 m (100 ft).
Reduced Cable Size, Durable Materials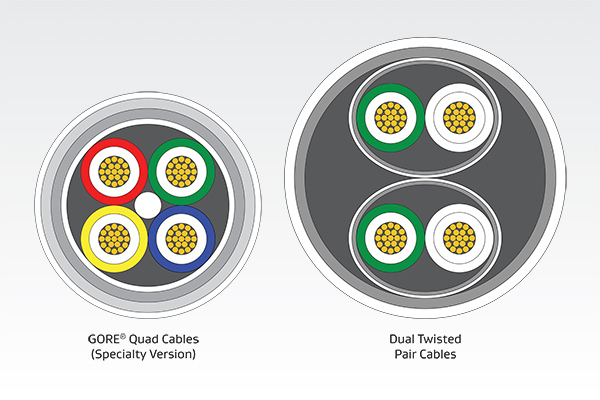 We're the original architect of this innovative quadrax cable design. When compared to dual twisted pair constructions, our quadrax design is significantly smaller — by around 40% — yet remarkably strong. Our design is also lighter weight and has saved more than 5.0 kg (11 lb) per aircraft. This smaller diameter also increases flexibility with a tight bend radius, making it easier for maintainers to route our cables in crowded areas surrounding aircraft electronic systems.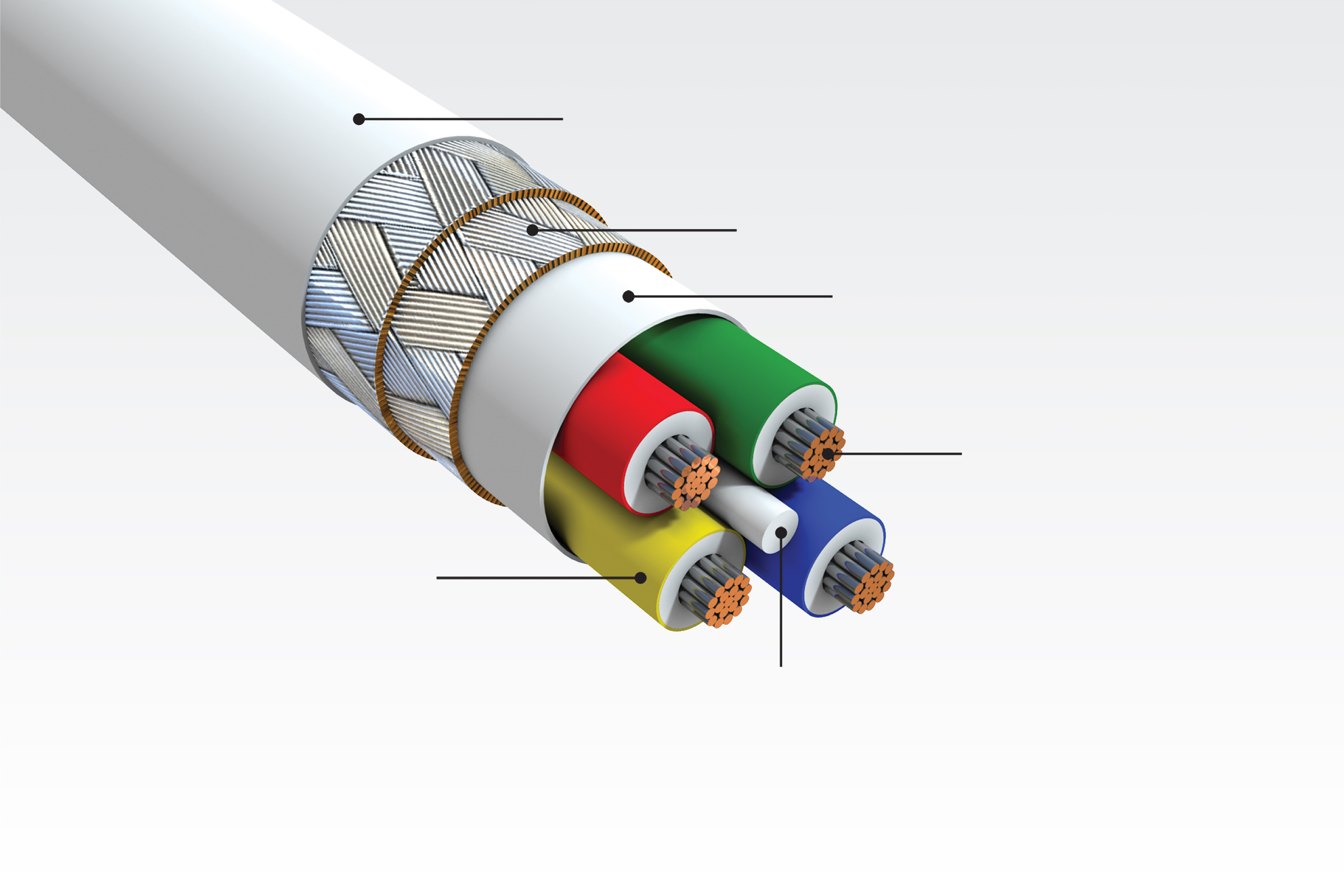 Remarkably strong materials of GORE Quad Cables (Specialty Versions)
Applications
GORE Quad Cables (Specialty Versions) are engineered to perform reliably in a variety of aircraft applications, including:
avionics networks
box-to-box systems
digital visual interface (DVI)
EO/IR (electro-optical infrared) sensors
Ethernet backbone
flight control
mission systems
propulsion control
video networks
If you have any questions or to discuss your specific application needs, please contact a Gore representative.
Benefits
GORE Quad Cables (Specialty Versions) provide aircraft system architects and engineers with many benefits that improve electrical and mechanical performance such as:
routinely transfer bi-directional signals with controlled impedance at speeds up to 1 GHz
low-skew performance aligned with high-speed serial data/video protocols
remarkably strong materials reliably protect against extreme environments
unique quadrax design is 40% smaller than dual twisted pair constructions
lighter weight construction proven to save more than 5.0 kg (11 lb) per aircraft
simpler routing in crowded areas due to more flexibility and smaller bend radius
compatible with variety of high-speed aerospace connector systems/backshells
selected pre-qualified samples with short lead times for prototyping and evaluation
low technical risk based on validated product performance in real-world conditions
For more information about the benefits of our cables, please contact a Gore representative.
Properties
These values demonstrate the electrical, mechanical and environmental performance of GORE Quad Cables (Specialty Versions).
Electrical Property
Value
RCN8752
(24 AWG)
RCN8982
(26 AWG)
RCN8973
(28 AWG)
Standard Impedance (Ohms)
100 ± 5
100 ± 10
100 ± 10
Typical Operating Voltage (V)
< 15
< 15
< 15
Nominal Velocity of Propagation (%)
> 80
> 80
> 80
Nominal Time Delay ns/m (ns/ft)
4.10 (1.25)
4.23 (1.29)
4.10 (1.25)
Capacitance pF/m (pF/ft)
50.0 (15.2)
39.4 (12.0)
42.7 (13.0)
Minimum Near-End Crosstalk (NEXT) (dB)
10 MHz
100 MHz

50.0
35.0
—
—
Maximum Skew Within Pair ps/m (ps/ft)
13.12 (4.0)
13.12 (4.0)
13.12 (4.0)
Dielectric Withstanding Voltage (Vrms)
Conductor-to-Conductor
Conductor-to-Shield
1500
1500
1500
Mechanical / Environmental Properties
Value
RCN8752
(24 AWG)
RCN8982
(26 AWG)
RCN8973
(28 AWG)
Jacket Material
Engineered Fluoropolymer
Jacket Color
White (Laser Markable)
Conductor
Silver-Plated Copper Alloy
Conductor Color-Coding
Blue/Red, Green/Yellow
Blue/Orange, Green/Red
Black/Blue, Green/White
Dielectric Material
ePTFE/PTFE
ePTFE/PTFE
ePTFE/PTFE
Temperature Range (°C)
-65 to +200
-55 to +200
-55 to +200
Part Numbers & Drawing
Download the drawings to view cable characteristics like diameter, weight, minimum bend radius and insertion loss.
Qualifications
GORE Quad Cables (Specialty Versions) have undergone substantial qualification testing to ensure they meet the most current industry standards and our customers' requirements.
ABD0031 (AITM 2.0005); BSS7230; FAR Part 25, Appendix F, Part I: Flammability
ABD0031 (AITM 3.0005); BSS7239: Toxicity
ABD0031 (AITM 3.0008B); BSS7238; FAR Part 25, Appendix F, Part V: Smoke Density
AFDX/ARINC 664, Part 7: Ethernet Networks
ANSI/NEMA WC 27500: Environmental Testing, Jacket and Marking
IEEE 802.3: Ethernet 1000BASE-T
SAE AS4373™: Test Methods for Insulated Electric Wire (Contact Gore for available data)
Fill out a short form to receive a complimentary sample of our pre-qualified cables for prototyping and evaluation from our authorized global distributors, Air Cost Control (Europe) or WireMasters (US).
Resources
近期新闻
新闻发布
发布 September 16, 2020
戈尔公司今日宣布旗下产品GORE® PHASEFLEX® 微波/射频测试组件荣获2020年军事与航天航空电子创新奖。经航天航空和国防界经验丰富、广受尊敬的评审团严格评比,戈尔组件具有优异的可靠性和耐久性,在电子战(EW)/雷达装置、电子监控/应对策略、雷达预警系统、导弹接近预警系统以及导航/通信系统的精准测试中发挥关键作用,因而被评为创新奖金奖。
活动
August 4, 2020 - August 6, 2020
由于新冠病毒疫情形势依然严峻,2020国际微波展(IMS2020)将首次在线上举办。此次研讨会的关键议题是5G连接。戈尔为5G测试提供一系列可靠的微波/射频测试电缆组件。我们将介绍戈尔电缆组件稳定持久一致的性能,如何确保准确和可靠的测试结果。